I suppose any bar that calls itself Ezra Pound is going to be a bar that offers artistic types inspiration. I mean, I know that's why I went out of my way to go there while I was here in Perth.




From the red velvet couches, to the murals on the walls, to the cabinet of old books that I want to own, this place was divine. But it was one mural in particular that inspired me.




As I was sitting at the chair, sipping my red wine, the lazy laughing eyes of this mural were staring back at me, tempting me away from the conversation going on with my three companions, whispering of the story it had to tell.

For it was, betimes, an entry into the Underground; the world that had been created for the fae to skip between freely when they were cast out of Ireland. Entry ways like this exist in many places, all leading to the one Underground, sort of like the idea of the One Forest of Charles de Lint fame. The bar is a favourite for the creatures of the Underground, so close to the entryway of their home.

There were more people who walked past us in our unsuspecting chairs and did not come back out. The barman, almost certainly a magician, creates the glamour for these fae creatures in the backroom and the doorman, almost certainly a hunching goblin, escorts us out when the lights of the bar have dimmed. It's time for us to go, so that the fae can play.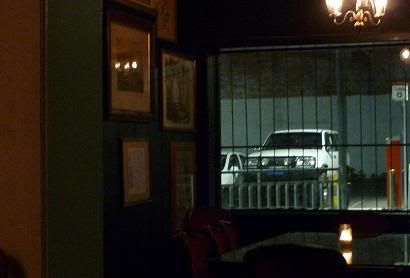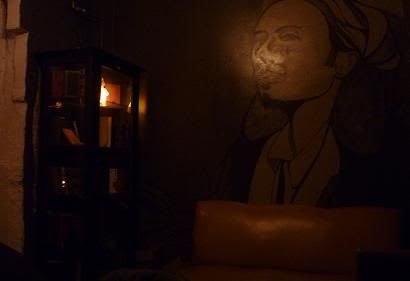 Nikki.